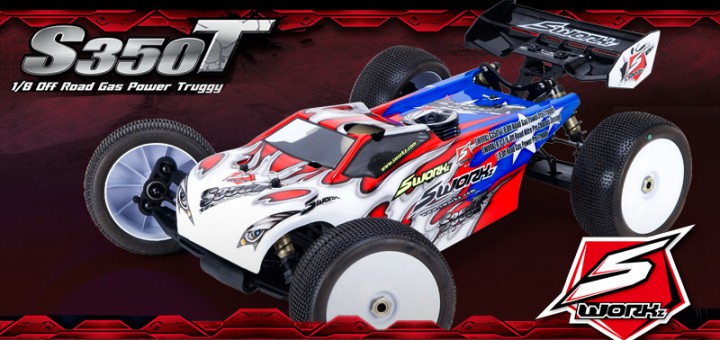 S350T 1/8 Pro Truggy
Detail | Standard Parts | Option Parts | Manual
SWORKz utilizes only the highest quality materials and industry leading manufacturing processes resulting in a faster, stronger, and more reliable vehicle. The S350T Pro Truggy Kit has been designed to out-perform the competition on any Off-Road terrain while offering amazing performance to drivers of all levels.
The S350T project is the result of SWORKz passion for improvement. Combining every detail into a more balanced and improved truggy called the "S350T". The SWORKz S350T Pro Truggy Kit comes standard with many SWORKz Factory Team Option Parts which improve strength, performance, and value.
S350T Kit Features:
F.C.S.S. Lightened chassis with T6 7075 aluminum in B.H.C (black hard coating).
Pro Shock Towers made of lightened 7075 aluminum.
New Hex-Cell Shock Bladders, special Impact Shock Piston system, and Pro 2.0 shock system with 4mm shock shafts.
High Performance Crown Gears and Pinion Gears.
Full CVD Drive Shafts.
New adjustable Rear Lower Plastic Insert Toe-In system.
Double Protection Bumper Design.
Sealed Front and Rear Arms design.
PSP (Power Steering Package) radio tray system.
Professional 2.0 Metal Brake Calipers.
New 150cc fuel tank with Floating Fuel Filter system.
Adjustable front upper and lower suspension arm system.
Speed Rhinocero Body Shell included.
Specification
Length: 590mm

Width: 410mm

Height: 230mm

Ground Clearance: 75mm

Wheelbase: 370-375mm

Track: F:355mm /R355mm

Gear Ratio: C:48/13T, F/R 46/10T

Weight: 4,000g
Product Number / Product Name
SW-910019 / SWORKz S350T 1/8 Scale Off-Road GP Pro Truggy Kit