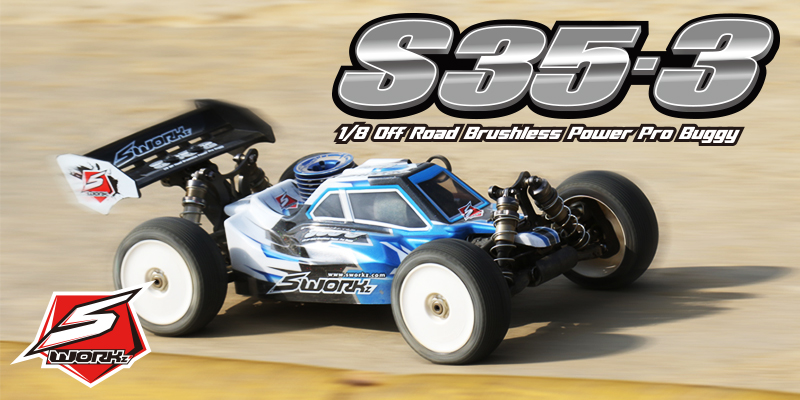 SWORKz S35-3 1/8 Pro Nitro Buggy Kit
Detail | Standard Parts | Option Parts | Manual
For the pass 7 years, SWORKz kept developing and improving their 1/8 off road nitro buggies. After the successful debut of the SWORKz S350 EVO II Limited edition (2015-2016), we continued to follow SWORKz DNA and further build on the EVO II Limited edition. Ultimately SWORKz created the S35-3 Pro Nitro Buggy.The S35-3 is a brand new SWORKz 1/8 nitro buggy.
The S35-3 newly designed arms are made from a strong standard nylon material. Optional carbon covers are available to adjust the arm's stiffness. A new front Ackerman steering system and a unique front shock tower design allow you to change the front upper angle position with ease.The centre plastic BBD diff system provides better acceleration to the S35-3. A new simple radio tray system gives better and more precise throttle and braking response. The T-7075 aluminum chassis come with several new designs. The L.F.C (Lower Friction Coefficient) chassis allow users to install 15-45g balance weight on the chassis CG position. The S35-3 includes high quality parts, a refined shock system, option parts for an optimized suspension.
The SWORKz S35-3 Pro Kit comes standard with many SWORKz Factory Team Option Parts. SWORKz utilizes only the highest quality materials and industry leading manufacturing processes resulting in a faster, stronger, and more reliable vehicle. The S35-3 Pro Kit has been designed to win. Congratulations on your purchase of the new SWORKz S35-3 1/8 scale off-road racing buggy pro kit.
S35-3 Kit Features:
S35-3 series Nitro Buggy T-7075 Aluminum Lightened Main Chassis with L.F.C system (Lower Friction Coefficient)
S35 series P-BBD (Plastic Big Bore Diff.) Competition Large Centre Diff. system
S35-3 Series Competition Rear Lower Arm Set
S35 Series Competition Aluminum Rear Hubs
S35-3 Series Competition Steering Plate
S35-3 Series Competition Aluminum Steering Knuckle Plates
S35-3 series L-BBS (Longer Big Bore Shocks) Pro Shock System Set
S35 Series BBS Emulsion Shock Caps
S35-3 Series Front Pro Shock Tower for Longer BBS shocks
S35-3 Series Special Lightened 6mm Axle Wheel Hub
S35-3 6mm Axle Universal Cross Drive Shaft (92.5mm)
S35-3 Series Aluminum Rear Lower Fully Adjustable Toe-In Block (A)
Option S35-3 Series Pro-composite Carbon Front Upper Arm Covers
S350 professional metal brake calipers 2.0 with S350 Series Competition Brake Discs
S35 Series Falcon Style 3 Clear Body Shell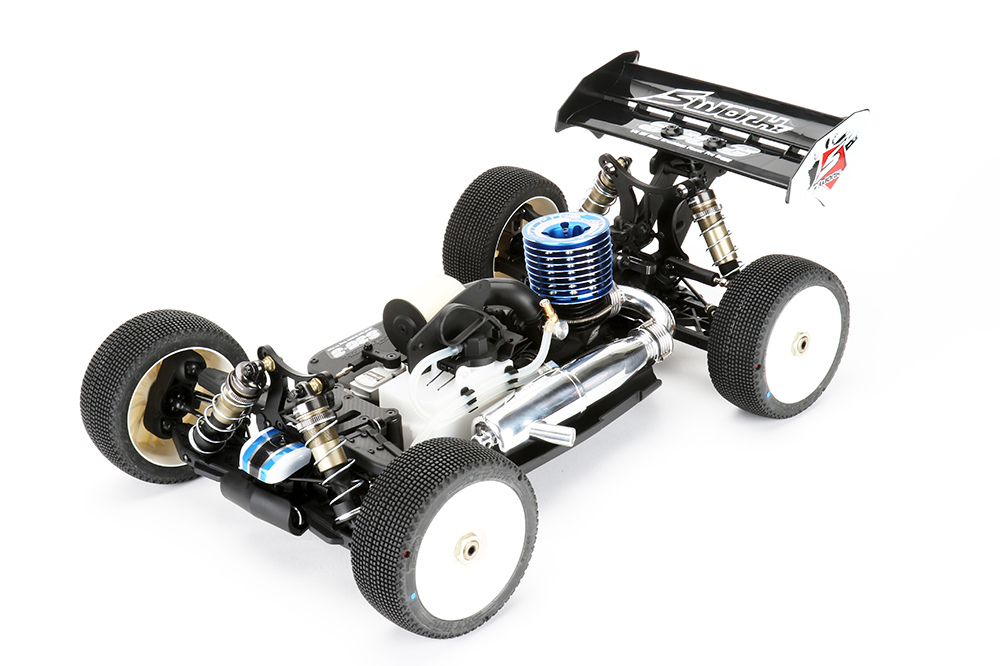 Specification
Length: 530mm
Width: 308mm
Height: 220mm
Ground Clearance: 65mm
Wheelbase: 325-330mm
Track: F:302mm /R:306mm
Gear Ratio: C:46/13T, F/R:43/13T
Weight: 3230g (Race condition)
Product Number / Product Name
SW-910025 / SWORKz S35-3 1/8 Pro Nitro Buggy Kit