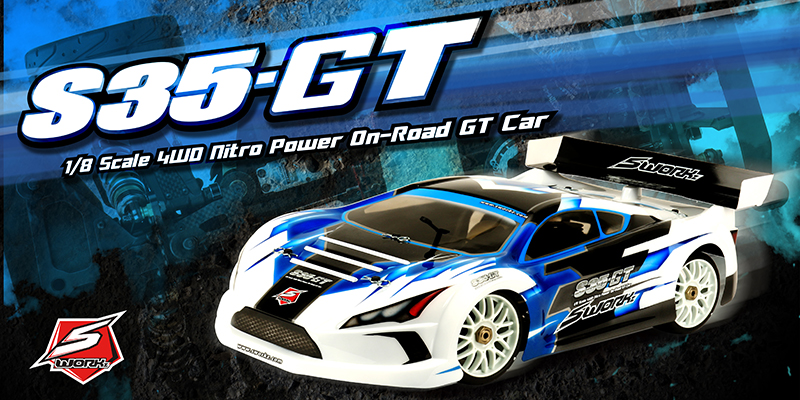 SWORKz S35-GT 1/8 Scale 4WD Nitro Power On-Road GT Car
Detail | Standard Parts | Option Parts | Manual
Based on the latest SWORKz S35-GTE platform, SWORKz further developed and improved thenitro GT and came up with the S35-GT. The S35-GT is the ultimate SWORKz 1/8th nitro On-Road GT Car at this moment. Its front and rear suspension design is shared with the S35-GTE. The Ackermann steering system came directly from the 1/8th S35-3 nitro Buggy. A new center 2 speed on-road transmission system gives perfect acceleration to the S35-GT. The S35-GT newly designed arms are made from a strong nylon material. Optional carbon covers are available to adjust the arm's stiffness for different tracks. The new unique front shock tower design allows to change the front upper angle position easily. The T-7075 aluminum chassis with its new design L.F.C (Lower Friction Coefficient) system will give more grip and at the same time less friction for the rear. A new radio tray system provides better and more precise throttle and braking response.
S35-GT Kit Features:
 S35-GT series Nitro on-road GT Car T-7075 Aluminum Lightened Main Chassis with L.F.C system (Lower Friction Coefficient)
S35-GT Series Front and Rear Pro Shock Towers made of Lightened T-7075 Aluminum for GT-BBS shocks system.
S35 Series BBS Emulsion Shock Caps.
S35-3 Series Lightened Transmission Gear Box System with High Performance Crown Gears and Pinion Gears.
Front and Rear Universal Drive Shafts with Special Lightened 6mm Axle Wheel Hub system.
S35-3 Series Aluminum Rear Lower Fully Adjustable Toe-In Block (A).
S35-3 Series Competition Aluminum Steering Knuckle Plates.
S35-GT new center 2 speed on-road transmission system.
S35-GT/GTE On Road Bumper and rear body poster system.
Heavy Duty Front and Rear Arms .
Professional 2.0 Metal Brake Calippers.
New 150cc Floating Fuel Filter System Tank.
Adjustable Front Upper and Lower Suspension Arm System.
S35-3 Series Pro-composite Carbon Front Upper Arm Covers.
Specification
Length: 490mm
Width: 308mm
Height: 145mm
Ground Clearance: 15mm
Wheelbase: 325-330mm
Track: F:304mm /R:306mm
Gear Ratio: C:61/57-19/24T, F/R:43/13T
Weight:3550g (Race condition)
Product Number / Product Name
SW-910028 / SWORKz S35-GT 1/8 Nitro GT Pro Kit