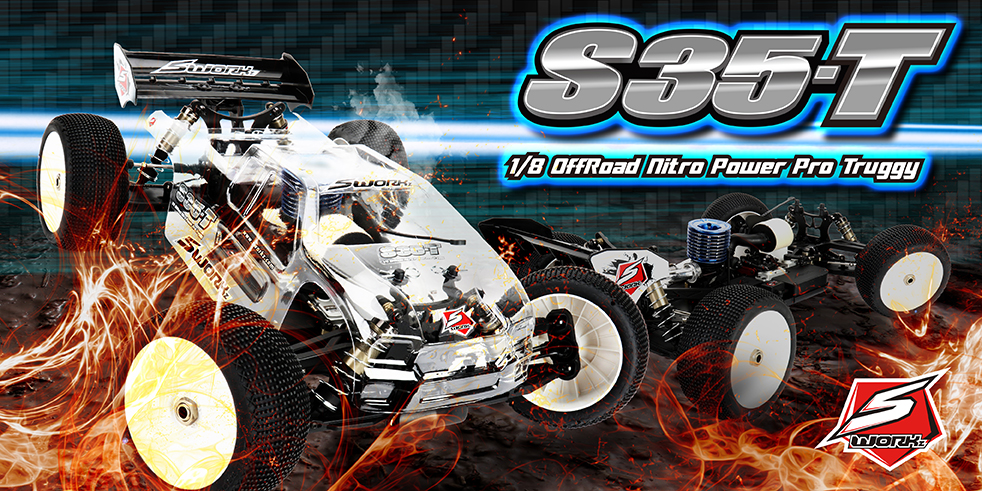 SWORKz S35-T 1/8 Scale Offroad Nitro Power Pro Truggy
Detail | Standard Parts | Option Parts | Manual
The S35-T is a brand new SWORKz 1/8 nitro Truggy based on the SWORKz S35-3 nitro Buggy. The Evolution of the S35-T project is the result of SWORKz passion for racing and race development. Combining every detail into a more balanced and improved truggy called the "S35-T". The SWORKz S35-T Pro Truggy Kit comes standard with many SWORKz Factory Team Option Parts which provide strength and performance. The S35-T newly designed front Ackerman steering system and unique front shock tower design allow you to change the front upper angle position easily. The centre plastic BBD differential system provides better acceleration for the S35-T. A new simpler radio tray system gives better and more precise throttle and braking response. Based on the S35-3 lightened transmission gear box system with a truggy crown gear ratio, provides powerful punch as needed in truggy racing.
S35-T Kit Features:
S35-T series Nitro Truggy T-7075 Aluminum Lightened Main Chassis with L.F.C system (Lower Friction Coefficient)
S35 Series Front and Rear Pro Shock Towers made of Lightened T-7075 Aluminum for longer BBS shocks system.
S35 Series BBS Emulsion Shock Caps.
S35-3 Lightened Transmission Gear Box System with High Performance Crown Gears and Pinion Gears.
Front and Rear Universal Drive Shafts
S35-3 Series Aluminum Rear Lower Fully Adjustable Toe-In Block (A).
S35-3 Series Competition Aluminum Steering Knuckle Plates.
S35 Series P-BBD (Plastic Big Bore Diff.) Competition Large Centre Differential System.
Double Protection Bumper Design.
Heavy Duty Front and Rear Arms
Professional 2.0 Metal Brake Calipers.
New 150cc Floating Fuel Filter System Tank.
Adjustable Front Upper and Lower Suspension Arm System.
Speed Rhinoceros 2.0 Body Shell included.
Specification
Length:585mm
Width:415mm
Height:230mm
Ground Clearance:75mm
Wheelbase:375-380mm
Track: F:355mm /R:355mm
Gear Ratio: C:48/13T, F/R:46/10T
Weight:3980g
Product Number / Product Name
SW-910030 / SWORKz S35-T 1/8 Nitro Truggy Pro Kit