SWORKz S14-4D (Dirt Edition) Dirt 1/10 4WD EP Off Road Racing Buggy Pro Kit
Detail | Spare Parts | Option Parts | Manual
The SWORKz S14-4D (Dirt Edition) 1/10 4WD is designed for pure racing. It is an evolution from the successful S14-3D and S14-4C platform. The new geometry of the car provides optimized corner speeds and easy handling on carpet and very high grip tracks.
The S14-4D features the new gear box with adjustable diff. system on a T7075 hard anodized and lightened aluminum chassis. The flex of the chassis can be changed by different material sideguards.
The S14-4D comes with SWORKz brand new designed 1/10 Pro-Shock System (Long version shock body). The shocks come with new Emulsion Precision Plastic Shock Caps, Shock Pistons with Seal Parts. The kit comes standard with a 4mm carbon full condition version for both front rear shock towers. The Teflon coated shock shafts provides smooth shock reactions. Black Line springs which are good designed with rotation fixed spring holders comes standard in the SWORKz S14-4D kit.
A brand new 5.5mm linkage ball stud system and 3.5mm durable turnbuckles are included in the S14-4D kit. Brand new adjustable ackermann plate with lightened steering bell crank System are included too. The S14-4D has new rear angled lower arms that provide a lower shock position which leads to a lower center of gravity.
The kit is equipped with a quick release gear differential system, which can be mounted in 3 different positions. The weight of the gearbox is optimized to a perfect balance between size and strength.
The wing mount holder's height and angle can be adjusted. The rear width of the S14-4D can be changed with the new Synthesis Rear Hub System and rear CVA modularity.
The SWORKz S14-4D has a thin front sway bar and a completely new rear sway bar holder system.
The S14-4D standard comes with center gear diff system for dirt racing performance.
The S14-4D body shell has good aerodynamics.
The SWORKz development team focused on using materials, corresponding to the highest quality standards, when designing the car. You will find only 100% SWORKz quality in the S14-4D kit.
Congratulations on your purchase of the new SWORKz S14-4D 1/10 scale off-road racing buggy and thanks for trusting in SWORKz.
Please read this manual carefully before you start to build and drive your SWORKz S14-4D. This manual contains step-by-step instructions to help you complete, prepare and fine tune your buggy for racing. Updates, setups, and product news will be posted on SWORKz digital media.
As always, if you should ever have any questions or need help with your SWORKz products, please feel free to contact our official SWORKz dealers and distributors.
S14-4D Pro Kit Features:
T7075 hard anodized & lightened aluminum chassis
Adjustable flex system with various sideguards
4 different battery positions
Front and rear 4mm Carbon shock towers
Changeable Ackerman plate
New front and raer sway bar system
Super light anodized front wheel axles
Front wing system
Front aluminum toe in plate
Easy adjustable Ackerman plate
The brand new 5.5mm linkage ball stud system
The brand new 3.5mm linkage turnbuckles system
Adjustable differential position
Quick differential release system
Lower shock position design with adjustable shock tower position
Brand new design SWORKz 1/10 Pro Shock System (Long shock body version)
Adjustable rear wing height
Adjustable rear wing angle
Rear width adjustable with hubs included length adjustable CVA
New Synthesis Rear Hub System
Fully adjustable square aluminum toe in plate "SWORKz" engraved
New designed rear sway bar holder
Front and rear wheel hex hard anodized
Super light CAD optimized gearbox
Precision plastic emulsion shock cap system
Unique designed shock stud screws
Hard anodized stock studs
Black line shock spring
Rotation protected spring holder
Teflon hard coated shock shaft
Hard coated shock body
6 Ball bearings servo system
Quick release electronic plate
Battery pad included
Balanced motor position
Body shell with optimized aerodynamic design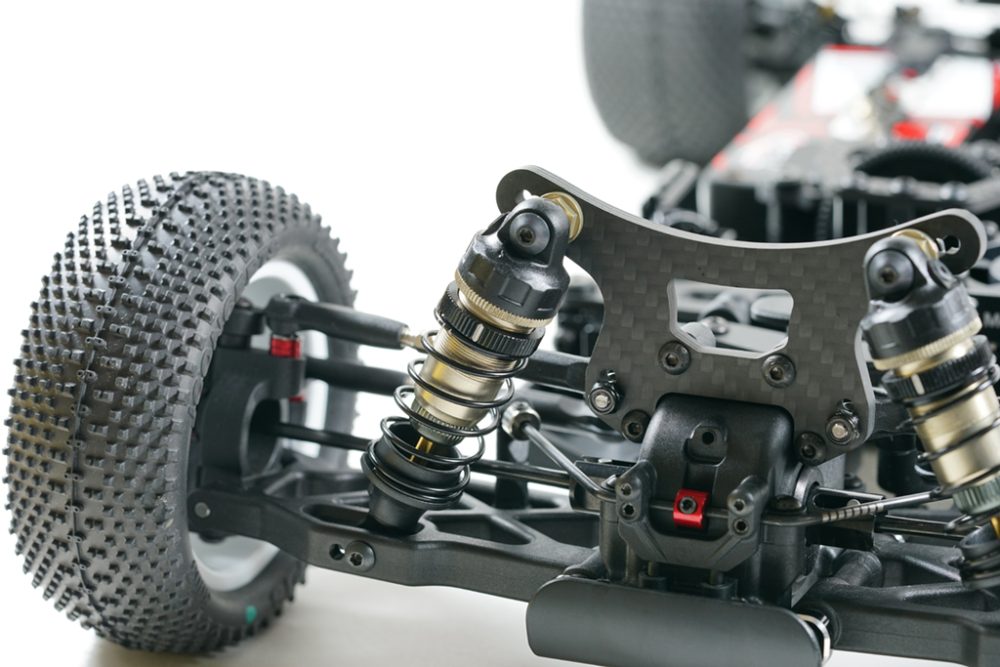 Specification
Length: 395mm
Width: 245mm
Height: 155mm
Ground Clearance: 45mm
Wheelbase: 282-285mm
Track:F:232mm / R:235mm
Gear Ratio: C:81T/19T, F/R:42/17T
Weight:1680g (Race condition)
Product Number / Product Name
SW-910034D / SWORKz S14-4D (Dirt Edition) Dirt 1/10 4WD EP Off Road Racing Buggy Pro Kit