SWORKz S350 FOX8 1/8 Nitro Off Road RTR Buggy
Detail | Standard Parts | Option Parts | Manual
Introducing the new S350 FOX8 1/8th scale off-road nitro powered race buggy from SWORKz. The S-Lite buggy is the RTR version of the very successful S350 EVO buggy.
The FOX8 (assembled in the same factory as the S350 BK1 EVO II) incorporates many of the same race-inspired features as the S350 EVO II and provides the user with precise feedback and a nimble yet balanced feel that suits drivers of all levels. The FOX8 comes with a pre-painted and pre-cut body that will be available in several color variations.
The SWORKz design team focused their efforts into the proper weight distribution of the S350 FOX8. Proper weight distribution proved to be instrumental to the ease of setup experienced during the design and testing phase of the S350 FOX8. The SWORKz S350 FOX8 1/8th scale nitro powered off-road racing buggy comes standard with Big Bore Shocks and grease filled differentials providing traction and balance on multiple off-road surfaces. The pivot ball steering system gives the driver sharp and accurate feedback and the S350 FOX 8 comes with a race inspired base setting that is easy to drive.
Kit features:
Race inspired design with Rear kick up T6 6061 chassis system.
BK1 pro kit Suspension system.
Front CVD Drive Shafts.
Front and Rear Big Bore Shocks.
Double Protection Bumper Design.
Adjustable front upper and lower suspension arm system.
120cc racing style fuel tank system.
Pre-mounted and Pre-painted Body Shell.
2.4G Radio System (SW-T1 Radio with USB charge system and Li-Po battery included)
S-POWER S1 Engine with pull-start system.
New dust protection radio box with AA battery holder.
Overall, the S350 FOX8 is a perfect combination of design, quality and performance.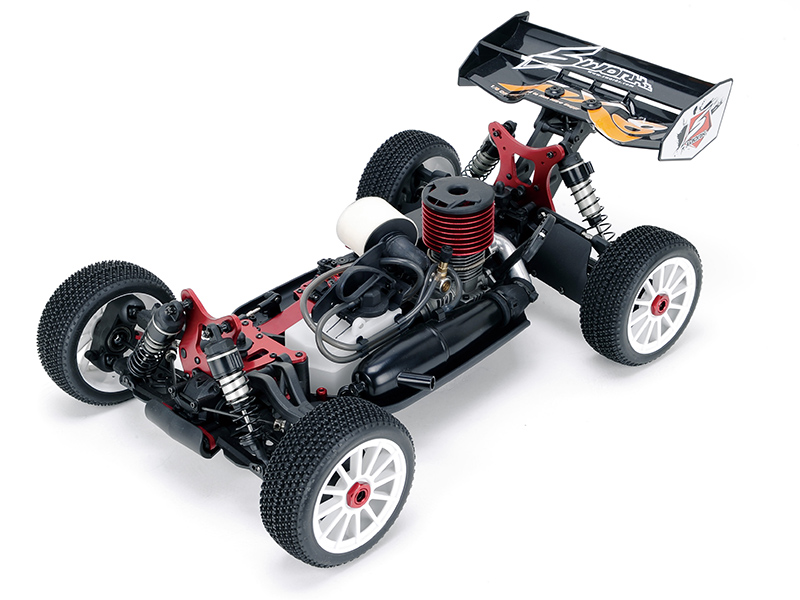 Specification
Length: 535mm
Width: 308mm
Height: 220mm
Ground Clearance: 70mm
Wheelbase: 323-327mm
Track: F:306mm /R306mm
Gear Ratio: C:46/13T, F/R 43/13T
Weight: 3350g
| | |
| --- | --- |
| Color Lineup | |
| | SW-910010 / SWORKz S350 FOX8 1/8 Nitro Off Road RTR Buggy (Red) |
| | SW-910011 / SWORKz S350 FOX8 1/8 Nitro Off Road RTR Buggy (Blue) |
| | SW-910012 / SWORKz S350 FOX8 1/8 Nitro Off Road RTR Buggy (Yellow) |